Drop-shipping – Sell Online Risk Free
SELL AND EARN AN OUTSTANDING PROFIT MARGIN! – 100% RISK FREE!
No Investment – No risk – No shipping process – Simply make money without the hassle.
If you own a travel related or shopping e-commerce website, why not sell SuperSmartTag one of the World's best selling travel accessories!
HOW IT WORKS:
SuperSmartTag
will provide you with all relevant information and high quality images of our product which you can implement onto your website.
Each time you make a sale you forward us the buyers details via email. We guarantee same day Worldwide shipping and we handle the complete professional packaging and shipping process for you to anywhere in the World.
There is no need to purchase stock from us which makes it absolutely risk free and very lucrative for your business.
At the end of each quarter SuperSmartTag will invoice you for the sales made then simply make payment to SuperSmartTag via paypal or electronic transfer.
Drop-shipping is currently only available for our TRAVEL SMART EDITION tags pictured below which are our best selling security tags Worldwide.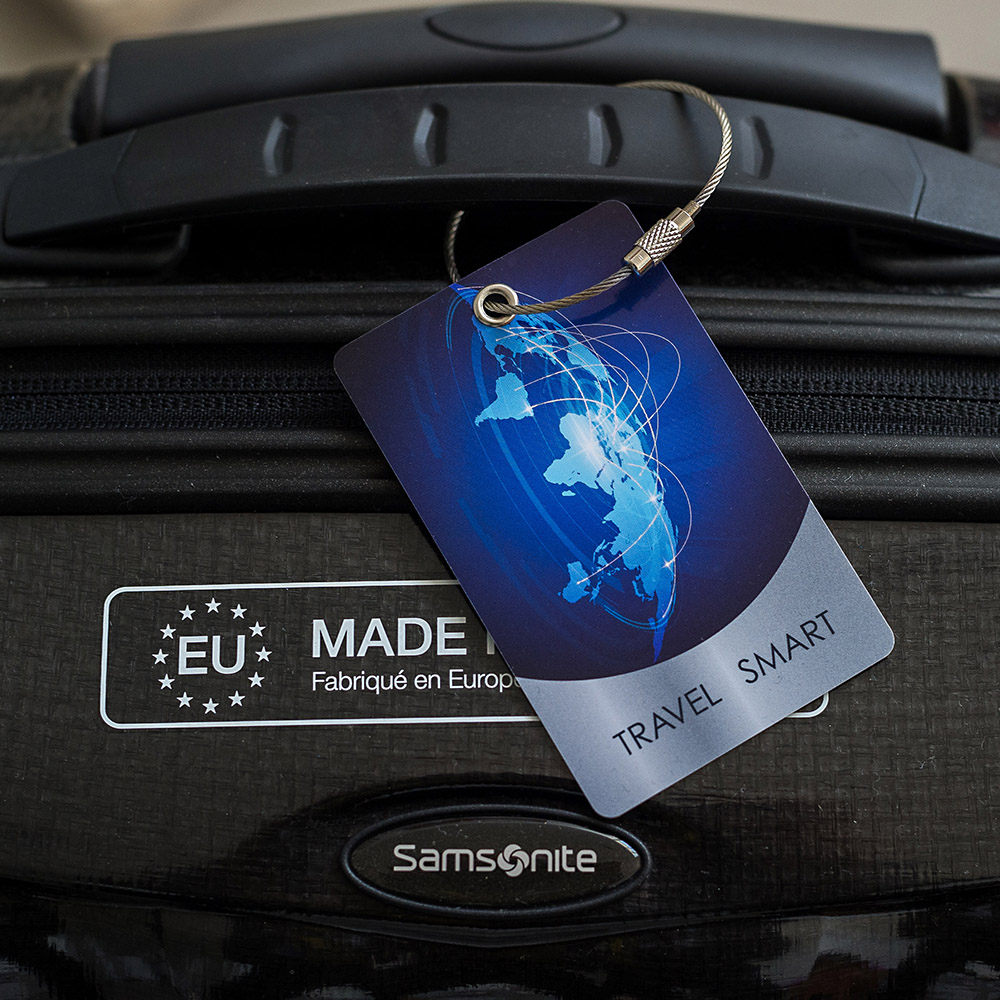 BASED IN THE UNITED STATES OR EUROPE
Suggested retail price is $19.99 USD
We charge you $5.00 per sale including shipping. You keep $14.99 USD per sale!
Each pack includes 2x tags and metal loops.
BASED IN AUSTRALIA
Suggested retail price is $24.99 AUD
We charge you $6.00 per sale including shipping. You keep $18.99  AUD per sale!
Each pack includes 2x tags and metal loops.
This offer is available to selected businesses. If you are a new company you may still qualify for this service however, payments must be made monthly for the initial 12 months.
Like to sell SuperSmartTags in your store? We can also sell you SuperSmartTags for the same price.
Order as little as 10x units to test out.
YOUR LOGO
Like to sell our tags with your logo on them? No worries, see our corporate branding page for more info.
Contact us for more information
Start Selling SuperSmartTag today!
All new design TRAVEL SMART EDITION PRODUCT INFORMATION:
SuperSmartTags come with our famous security code. Made of durable PVC including a metal eyelet and metal security loop. Extremely strong they are designed to last many years. No batteries or charging required.These unique tags are ultra glossy, the neutral travel design looks superb and make your luggage stand out from the crowd. Ideal for your carry-on luggage.
Easily identify your bags at the carousel while protecting your privacy. These tags will greatly reduce the chance of someone taking your bags by mistake and are designed not to fall off like paper tags so often do.
Each Tag includes 12 months global coverage from date of registration. This unique product is not available in store.
A SuperSmartTag statistically speeds up the process of recovering luggage and in most cases, items are returned within 4-12 hours.
The SuperSmartTag itinerary feature makes it possible for air carriers to send your lost items directly to your hotel. The unique SuperSmartTag code which is found on the back of every tag, protects your privacy.
Dimensions: 8.5cm x 5.4cm credit card size.
REGISTER ONLINE IN JUST SECONDS!
NO PERSONAL DETAILS OR PASSWORD REQUIRED!
12 MONTHS GLOBAL COVERAGE FROM DATE OF REGISTRATION!
NO CONTRACTS & NO ONGOING FEES!
REDUCE RISK OF IDENTITY THEFT!
KEEP YOUR IDENTITY SAFE & ANONYMOUS!
EVERY TAG HAS A UNIQUE ID CODE!
ADD TRAVEL ITINERARY FOR EACH TRIP!
MAKE YOUR LUGGAGE STAND OUT AND LOOK GREAT ON CARRY-ON-LUGGAGE!
PERFECT GIFT IDEA!
TRAVEL WITH PEACE OF MIND!
EXCLUSIVE DISTRIBUTION EUROPE
SuperSmartTag is seeking an experienced distributor for the European market.
The successful applicant will receive exclusive rights to promote, sell and distribute throughout Europe.
This is an exceptional opportunity with potential to generate high income.
If you would like to speak to us, please email us at: info@supersmarttag.com
Please address your email to: "Attention Gordon Jovic" so that it is passed onto our managing director.
We look forward to hearing from you.