Why you need our Smart Luggage Tags
If you travel or own a backpack you most definitely need a SuperSmartTag!
Your suitcase is checked-in prior to your flight however, your carry-on-luggage, backpacks & laptop bags are typically not checked-in.
The vast majority of travellers have absolutely no identification whatsoever on their carry-on-items.
Those that do attach a traditional luggage tag are actually exposing their personal information which industry experts strongly warn against.
It's a fact, that tens of thousands of carry-on-items are left behind at airport terminals and especially security check points every week.
These days travel is quite chaotic. Airports are extremely busy and travellers easily lose focus of their items while rushing to connection flights and going through security.
Imagine you board the plane and suddenly realise you have left your backpack or laptop behind.
The chances of ever finding your item are indeed very slim.
SuperSmartTag is the solution to this common problem!
SuperSmartTags look great, they protect your privacy and your identity is anonymous while they allow airport staff to easily contact you in case you have lost an item via our unique smart-code.
With our itinerary feature, you can even add in your flight numbers and name & address of your hotel so that lost and found staff can forward your lost item straight to your hotel room door.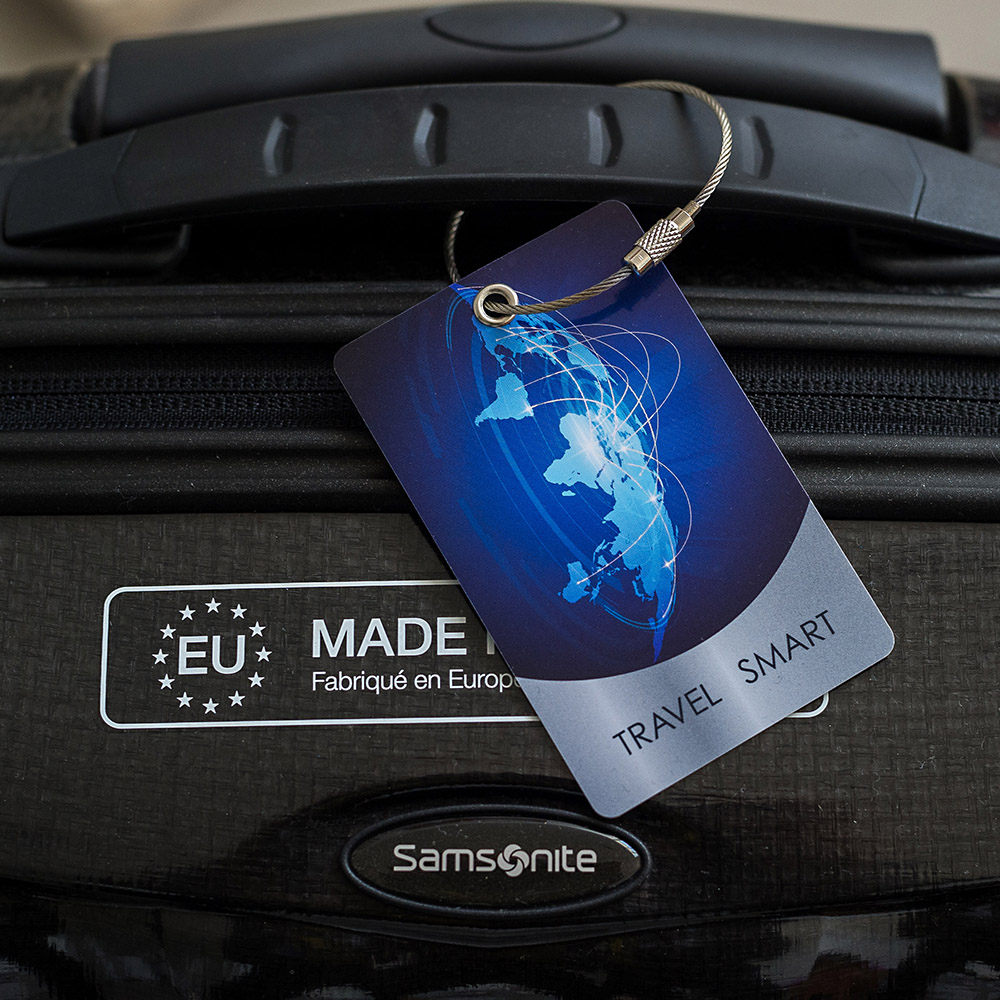 CHECKED-IN LUGGAGE
Your suitcases are checked-in prior to your departure.
Airlines will place a white strip around the carry handle to protect it from loss however, statistics show that airlines still lose millions of suitcases across the World each year.
Placing an additional SuperSmartTag on your suitcase will greatly reduce the risk of loss.
AT THE CAROUSEL
Have you ever picked up a suitcase at the carousel only to realise that it's not your's?
Of course you have! This is a very common problem and one of the main reasons suitcases disappear.
Travellers unintentionally take your suitcase by mistake.
A SuperSmartTag will differentiate your suitcase from someone else's and reduce the risk of this happening to you.
Best of all SuperSmartTags are very affordable for everyone and are a great investment for travelling with peace of mind.
They are also very durable and will last many years.
Simply click on the SHOP link in the above menu to order your tags now!
FREE shipping Worldwide!
---
THE STORY BEHIND SUPERSMARTTAG LUGGAGE SECURITY TAGS
Gordon Jovic founder and CEO of SuperSmartTag was an Internationally recognised photographer who travelled the World on assignments. While he was on route from Frankfurt, Germany to Rome upon boarding the plane he realised that his carry-on-luggage was missing.
He spoke to a steward on the plane but was told that the doors had already been secured and that he would need to wait until arriving at Rome before he could report his carry-on-luggage as lost.
After getting through customs at Rome he went over to the airline information desk but was informed that his carry-on-bag was not a matter for the airline and that he would need to report his lost bag to the lost baggage department.
He was then told that his loss was not a matter for Rome airport and would need to call Frankfurt airport.
Gordon decided to go to the hotel to continue the task of recovering his bag.
He then called the lost and found section at Frankfurt airport but was only able to reach a recorded message.
Completely frustrated, he waited until the next morning to try again as no one had picked up for hours.
In the morning he was able to leave a voicemail message. Then later that day he did receive a call. The clerk asked him to email the details of the lost item. Gordon emailed the best description possible in hope of finding his lost bag.
3 days had past and there was still no response.
After calling again, it was eventually confirmed they had received his email but could not locate his luggage.
CARRY-ON-BAG WAS LOST FOREVER
Gordon was never reunited with his carry-on-luggage and it was lost forever.
After this frustrating experience Gordon knew there had to be a better way of recovering a lost item so that he started researching lost bags and the prevention of lost luggage.
He then came up with the idea of what is today known as the SuperSmart-code which has since its inception spared thousands of travellers across the World the frustration of losing their luggage.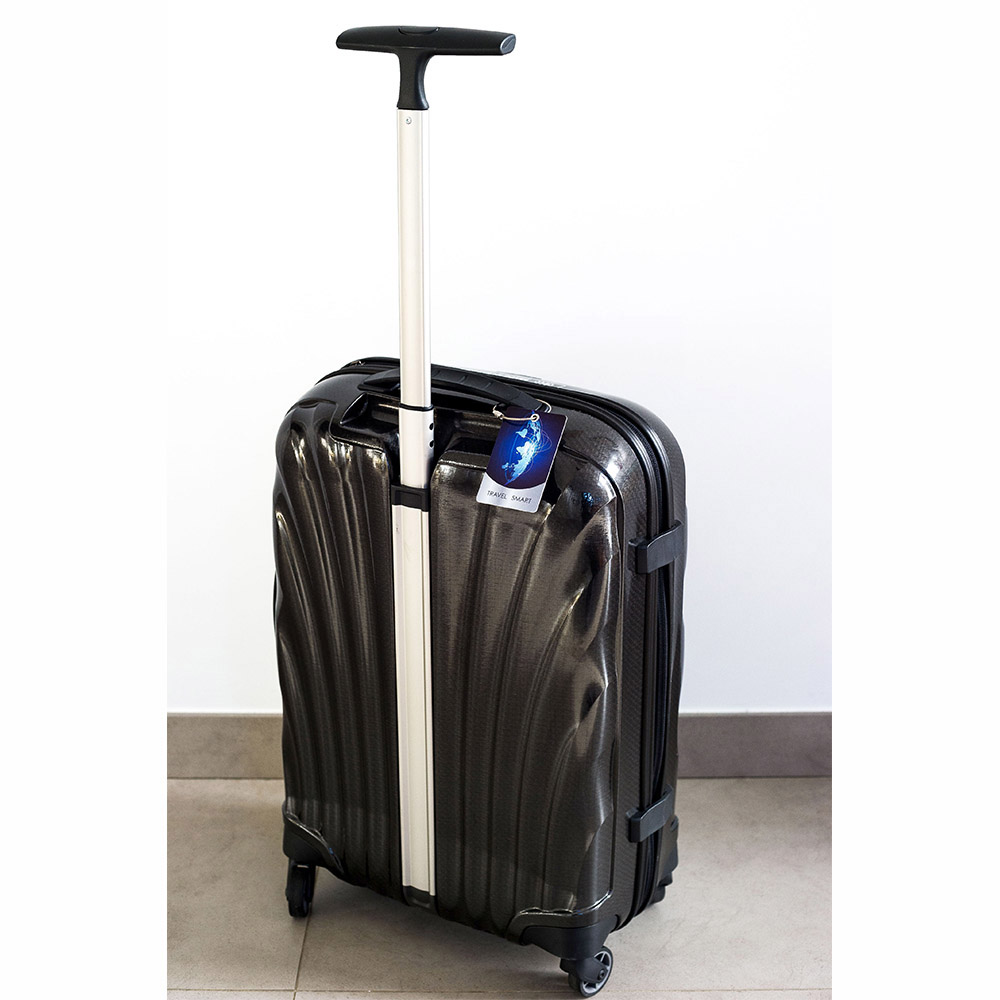 The development of the secure online database and luggage tags took well over 18 months of testing and improving before the product was ready to be launched and offered to the public.
In January 2010 SuperSmartTag was born.
INTERNATIONAL GROWTH OF OUR LUGGAGE TAGS
Growth was quite rapid especially in the United States where several travel related blogs, websites and magazines featured the product.
Since it's the humble beginning over one million SmartTags have been sold across the globe which has made SuperSmartTag the best-selling smart luggage tag in the World today.
Travel related companies have also since corporate branded the product using their own logos and designs realising the great potential SuperSmartTags has in promoting their brand to travellers.
WHY PERSONAL ITEMS ARE LOST?
Most of us believe we will never lose our backpacks or laptop bags etc but statistics show quite the opposite.
Thousands of items are left behind at airport terminals each week across America and the rest of the World.
Why and how does this happens?
Travel is stressful and often chaotic therefore losing focus of your items is in fact quite easy.
Each day tens of thousands of personal items are left behind at airport terminals and security checkpoints.
Your hands are usually full, you are often tired while security officials make you take off your jacket and shoes then empty your pockets, remove your belt, watch and wallet.
You're probably being rushed by the person behind you to move quickly.
We rush to our connection flights so that leaving an item behind sooner or later is actually inevitable for any frequent traveller.
EXPERTS WARN: DO NOT ATTACH NAME & ADDRESS TO YOUR BAGS!
Travel industry experts strongly advise against attaching a name or physical address to your items because this is seen as an open invitation for criminals to break into your home while you are away.
If you are like most people, you won't give much thought to luggage tags before your trip and will scribble your name and address on the paper tags the airlines provide at the check-in counter.
A BIG MISTAKE! According to the Blue Planet Security Corporation cheap paper tags easily get damaged, destroyed and ripped off your luggage. A cheap paper tag can easily ruin your trip.
INTERNATIONAL TRAVEL
Traveling internationally can be very safe, but using extreme caution is always best when you're far from home.
For American travellers keep in mind that it's possible you'll come in contact with people who have anti-American feelings while traveling, especially while abroad. Once again, our neutral Travel Smart Tags protect your identity at all times and no matter where you go.
WAITING FOR YOUR BAGS
Whether you're a seasoned traveller or someone taking your first flight, it can be a nerve-wracking experience waiting for your luggage to appear at the airport's baggage claim area. As the scores of suitcases move past on the carousel, it's easy to miss seeing your suitcase. By clearly and uniquely identifying your luggage, you'll be able to claim it quickly and avoid someone taking your suitcase by mistake.
You might think you can easily identify your luggage by its appearance, but if someone else has the same or a similar bag, you'll both be in a quandary. By placing one of our unique luggage tags on your suitcase so that you can identify it from a distance will greatly reduce the risk of someone taking your bags by error.
Don't opt for the basic paper tags provided by the airline. Many travellers use these as a last-minute option.
SuperSmartTags have been tested under extreme conditions and are sturdy and recognisable and they also look great.
SUPERSMARTTAG VS TAGS WITH GPS TRACKING
There are several companies that offer luggage tags with GPS tracking however, their accuracy and functionality are often limited and, in many cases, completely fail. Electronic tags will typically cost in excess of $50.00. These firms also charge high additional annual fee's which cost more than most travellers are willing to pay.
If we believed GPS tracking had an advantage over our own proven Smart-Code we would of course implement it however, after extensive testing and on-going research we have determined that GPS tracking is overkill that often fails to work precisely.
Items lost with a SuperSmartTag attached statistically have a 98% recovery rate!
This is why we believe that our system provides travellers with an excellent recovery system at a fraction of the cost.
TRAVEL ITINERARY
Every SuperSmartTag includes our unique itinerary feature.
This takes our luggage tags to the next level and clearly takes our tags a step above electronic tags.
Should your item go missing or should it be left behind at the terminal or in the plane on embarking, lost and found staff can type in your code and not only find your contact email/phone number but they can also see your flight numbers, carrier and even see where you're staying providing you have included this information.
This makes it possible for them to forward your lost bags straight to your next destination or hotel.
Itinerary can either be typed into the itinerary field or simply copy and paste the whole lot in and then remove anything you may not wish to include. This takes just a few seconds and can make getting your bags back to you way quicker in case your bag goes missing.
Below is an example of what lost & found staff can be presented with when your luggage goes missing.
This is done by clicking on the UPDATE ITINERARY BUTTON.
Such information will make it very easy for airport staff to get your luggage back to you very quickly.
Adding such data is of course optional.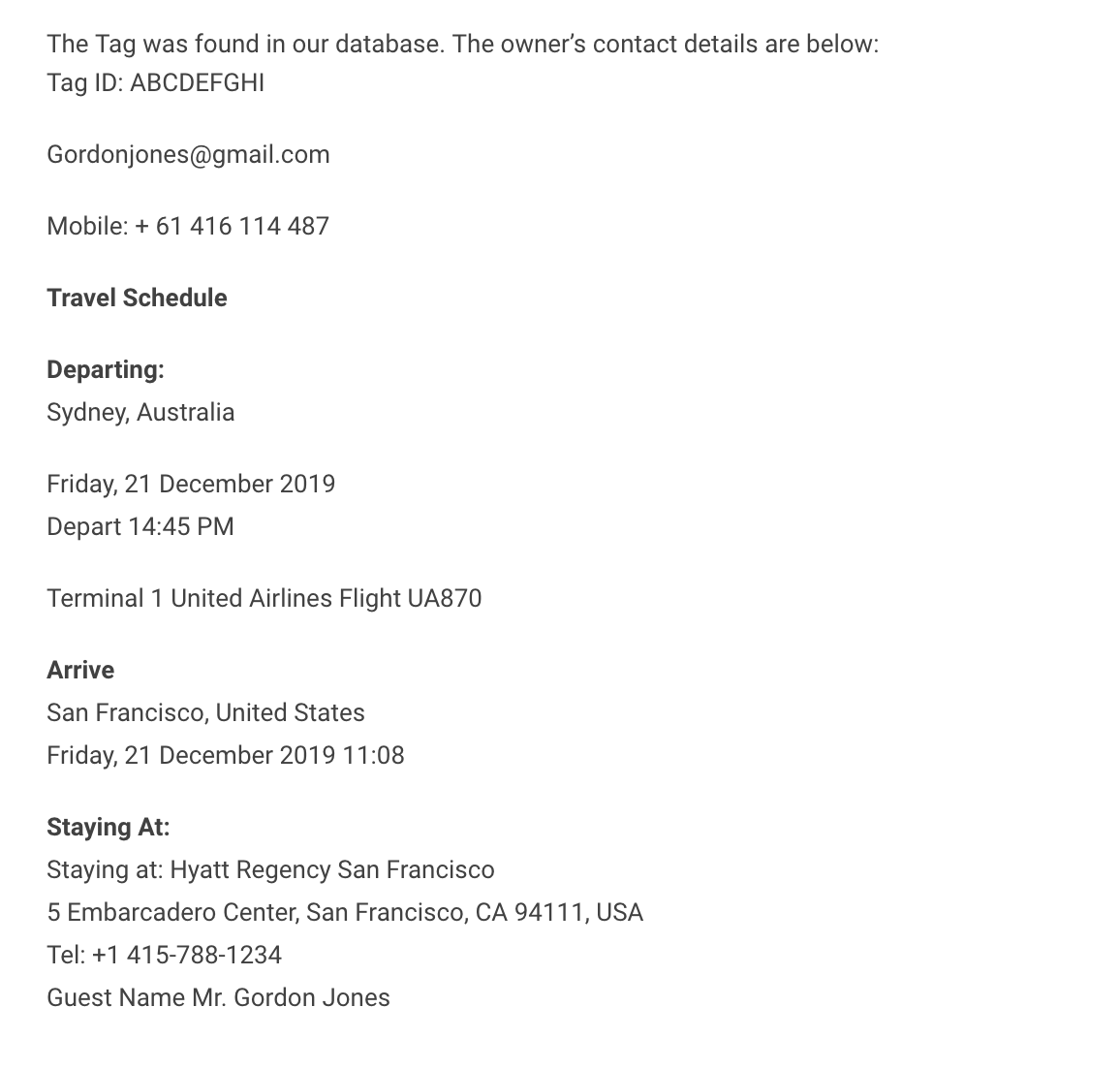 YOUR LUGGAGE IS COOL
In today's day and age our suitcases, carry-on bags and backpacks all look cool.
There are countless designs and colours available and we spend hundreds of dollars on quality brands such as Samsonite, Delsey, American Tourister, Eagle Creek, Rimowa, Tumi, Hartman, Travelpro, Briggs and Riley, Victorinox, Kenneth Cole, Herschel & Antler to name a few.
It makes good sense to protect such luggage with a smart luggage tag.
SuperSmartTags also makes these trendy bags look even cooler and are now available in over 30 designs for you to choose from.
Happy Travelling!