CARRY ON LUGGAGE & PROTECTION
Hardside or softside, two-wheel or spinner, suitcase or backpack: whatever your preference, we've selected the top carry-on bags in every category.
Each product we feature has been independently selected and reviewed by our editorial team. If you make a purchase using the links included, we may earn commission.
We know the original "Keep Calm and Carry On" slogan wasn't initially intended to have anything to do with luggage, but we really do believe in skipping the checked bag whenever possible. With all of your belongings on board, you can take comfort in knowing everything you'll need upon landing is with you — not headed to a different destination because it didn't make the connection or lying alone on a tarmac somewhere, probably in the rain, which is how we tend to visualize our luggage when we're feeling particularly anxious watching dozens of not-your-bags roll out onto the baggage claim carousel.
And less stress isn't the only pro to going carry-on-only. A carry-on bag is also much easier to handle. Have you ever had to schlep a 50-lb. bag up four sets of broken escalators to catch a train that's about to depart? Trust us, the extra three pairs of shoes won't be worth it again. Though, if you're a very clever packer and can squeeze quite a lot into a small space, you generally won't have to worry about weight limits like you do with a checked bag. As long as you can compress that thing back to its original size dimensions and lift it above your head without throwing your back out, you can fill a carry-on with bricks and no one will call you out. Except maybe the TSA's Instagram account.
Here are a few more helpful points to consider when choosing your new carry-on luggage.
DOMESTIC VS INTERNATIONAL SIZE
While there are generally only a few inches of difference between carry-on luggage dimensions you'll want to pay attention to the carry-on size restrictions of the airlines you fly most often. A good rule of thumb for domestic U.S. flights is to adhere to suitcases sized 22″ x 14″ x 9″. If you're often flying internationally, you may want to opt for a bag that stands at 21 inches instead, just to be sure you won't run into any issues when boarding. I've found that international carry-on luggage rules tend to be a bit more strict, especially if you're flying with a budget carrier.
SOFTSIDE VS HARDSIDE
If you always seem to be forced to gate check, you may want to opt for a soft-sided bag. They generally hold up best to wear and tear, though hard-shell bags are adopting more aesthetically durable materials as their popularity grows. Hardside luggage is generally a little more protective of what's inside, while softside bags may allow you to squeeze in an extra bit of baggage for the way home because the fabric has that added give.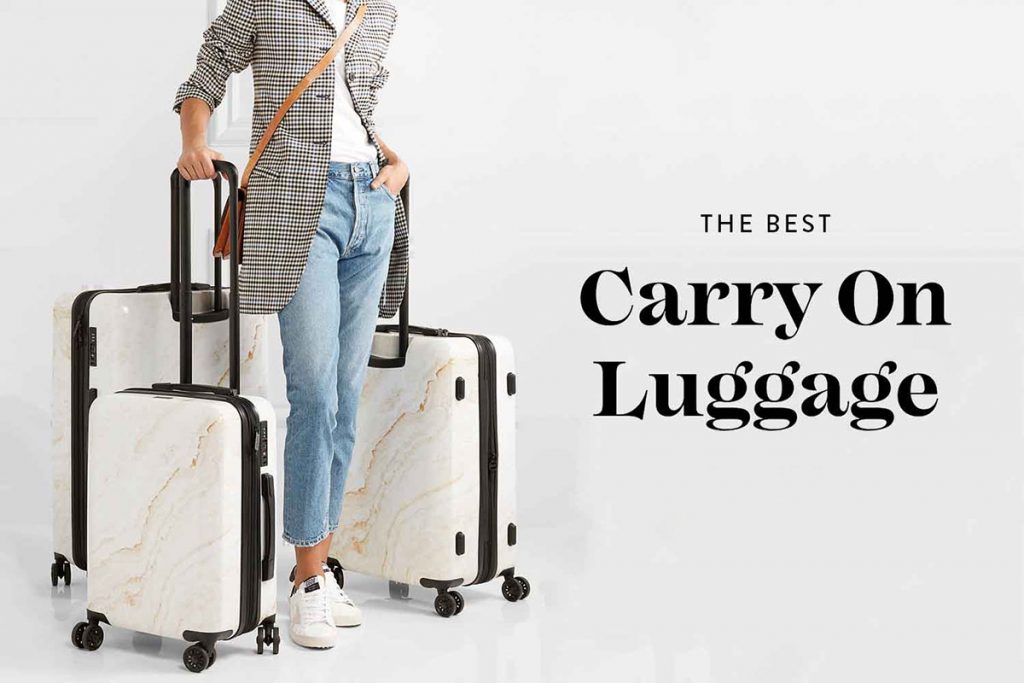 TWO WHEEL VS SPINNER
Spinner luggage has four wheels, usually multidirectional, that will allow you full control of the bag. This is helpful if you feel more comfortable wheeling your bag beside you when walking instead of hauling it behind you, and if navigating the bag down tight airplane aisles always seems to be a struggle. Do keep in mind, however, that two-wheeled suitcases don't have to lend as many inches dimension-wise to the wheels — so you may be sacrificing already precious packing space if you opt for a spinner.
HOW TO MAKE SURE YOUR CARRY ON WORKS FOR YOU
Once you receive your bag, test it out before your trip. Did you just like the look of it or is it really, functionally the best suitcase for how you travel? Stuff it full and wheel it around to see how it handles. Pick it up and lift it over your head to mimic putting it in the overhead bin. Familiarize yourself with all of the pockets and features. Even if you've read tons of luggage reviews and bought a bag from one of the best luggage brands, you'll want to evaluate the quality before traveling with it, because if there's one true law of luggage it's that if your luggage is going to break, it will absolutely find the most inconvenient time during your trip to do so.
How to Avoid Over-packing and Actually Sleep on a Long Flight, According to a Travel Expert
Most travelers have a tendency to over pack or under prepare for a long flight, resulting in two travel no-nos: bag fees and jet lag.
THE WINNERS LIST
Best Softside Carry-on: Travelpro Platinum Elite 21-inch Expandable Spinner
Best Hardside Carry-on: Briggs & Riley Sympatico 21-inch Expandable Spinner
Best Carry-on Spinner: Samsonite Spettro 20-inch Spinner
Best Two-wheel Rollaboard Carry-on: Victorinox Lexicon 2.0 Global Carry-on
Best Lightweight Carry-on: Delsey Turenne Hardside Spinner Suitcase
Best Large Carry-on: Away The Bigger Carry-on
Best International Carry-on: Briggs & Riley Baseline CX Carry-on Spinner
Best Underseat Carry-on: Travelpro Maxlite 5 Rolling Underseat Carry-on Bag
Best Affordable Carry-on: AmazonBasics 20-inch Hardside Spinner Luggage
Best Zipperless Carry-on: Arlo Skye The Polycarbonate Carry-on
Best Leather Carry-on: Hook & Albert Gen. 2 Garment Weekender Bag
Best Luxury Carry-on: Rimowa Original Cabin Spinner Luggage
Most Durable Carry-on: Tumi Latitude International Carry-on
Best Wheeled Duffel: eBags TLS Mother Lode Mini 21-inch Wheeled Carry-on
Best Carry-on Backpack: Tortuga Setout Backpack
Best Hard-shell Carry-on: Briggs & Riley Sympatico Expandable 21-inch International Spinner
Don't leave without attaching a SuperSmart Luggage tag!
Editorial with amendments thanks to: Travel & Leisure