HOUSEKEEPING IS NOT AN EASY JOB
It's a thankless job scrubbing toilets and tucking perfect sheet corners all day. But hotel housekeepers seem to be endowed with a special fortitude and grace that allows them to keep smiling no matter how big the mess.
THEY DO DESERVE A TIP!
We've set a tradition and precedent in our culture where a tip is expected in this situation," says Lizzie Post, who is a great-great-granddaughter of Emily Post, co-host of the Awesome Etiquette podcast, and co-author of several books.
HOUSEKEEPING HOW MUCH TO TIP
Just how much of a tip is appropriate? Post recommends tipping $2 to $5 per day. The American Hotel & Lodging Association's Gratuity Guide suggests $1 to $5 per day. Industry standard, according to the International Executive Housekeepers Association (IEHA), is about $5 per day in the U.S.
Be sure to tip each day rather than leaving one large tip before checking out on your last day. It's likely that different housekeepers will clean your room throughout your stay.
If you ask for extra towels or make some other special request, the consensus is that a $1 to $2 tip is appropriate for each delivery.
When I'm really on top of my game on a longer trip, I carry about $100 worth of singles with me, so that I don't have to track down change from the reception desk," says Megan Wood, editor at Oyster.com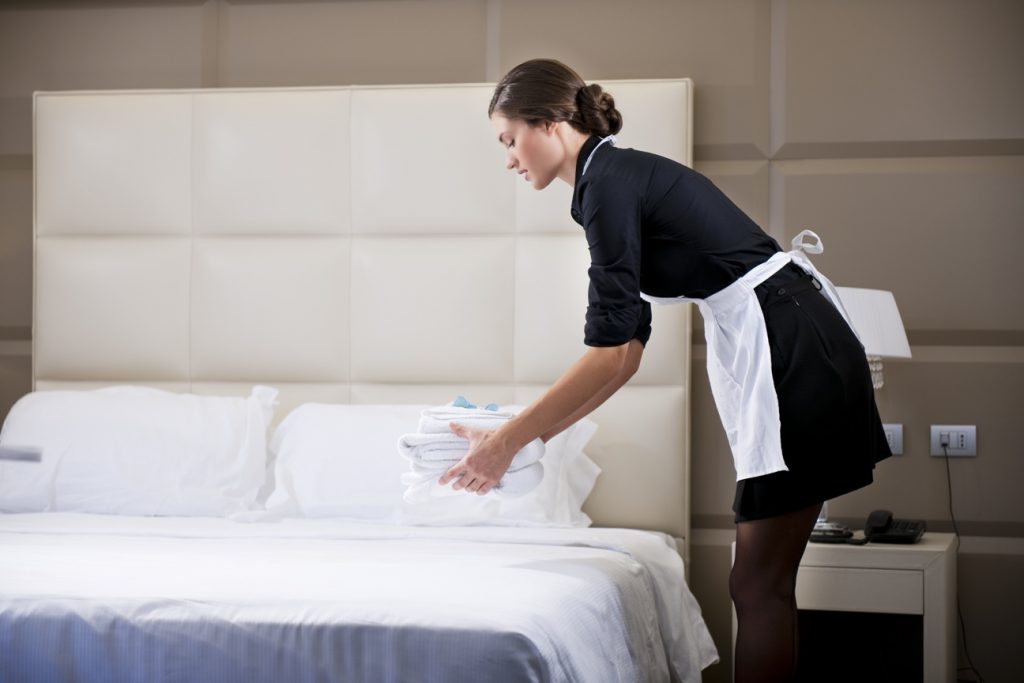 WHERE TO LEAVE YOUR TIP
Leave your tip on the desk or nightstand in an envelope, or put it with a thank you note. That way you don't keep your housekeeper guessing, and you know the money gets into the right hands.
I leave a note so housekeepers know the money is intended for them," says Post. "Many times I've left cash without a note and they won't take it because they're not absolutely sure it's for them and they don't want to pick up your loose change.
If you forget to leave your tip in your room and instead leave it with another staff member, there are, unfortunately, no guarantees that the cash will reach your housekeeper.
TIPPING AT 5 STAR HOTELS
Should you tip more at nicer hotels? That depends, say the experts.
Etiquette expert Diane Gottsman suggests tipping more in finer hotels. "The level of service and the quality of the hotel and location will play a part in the amount of gratuity," says Gottsman, author of etiquette books and owner of The Protocol School of Texas.
According to president of the IEHA Michael Patterson, however, there's no need to tip more in an upscale hotel. Why? He says that whether it's a three- or five-star property, housekeepers make approximately the same wages across the board in a given city.
Lizzie Post recommends tipping based on the service, not the hotel.
Tip more if the service is exceptional," says Post. "Don't leave less tip just because you're at a motel instead of the Waldorf.
No matter where you're staying, if you didn't receive good service, then don't feel obligated to leave a tip, says Patterson. But do remember that sometimes certain factors are out of the housekeeper's control.
TIPPING OVERSEAS
Every country has different customs around tipping. It's best to ask the concierge or take the time to research the destination's culture and tipping customs before you travel, says Gottsman.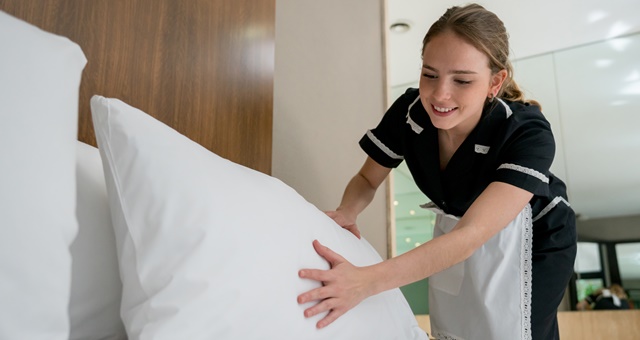 TIPPING FOR GREAT SERVICE
In every corner of the world, housekeepers have a difficult and labor-intensive job. Patterson encourages people to thank their housekeepers if they see them, especially if the hotel's housekeeping staff has gone the extra mile.
Gottsman tells the story of a hotel stay when she was so ill in her room that she had a hard time getting to the restroom to be sick. A hotel staff member sat by her side while her head was hanging over the commode.
She brought me chicken soup and checked in on me throughout the day," says Gottsman. "I will never forget the kindness. And, yes, I made sure to show her my gratitude with an extra-large gesture of gratuity.
It's a thankless job, says Patterson, but a very important one.
Editorial Thanks to SmarterTravel