IDEAS ON HOW YOU CAN TRAVEL LIGHT
Packing light can seem like a huge challenge if you're the kind of person who's regularly paying excess baggage rates. Yet many of the how to travel lite tips will have packing two weeks' luggage into a palm-sized rucksack.
BENEFITS OF PACKING LIGHT
No excess baggage fees
No checked baggage fees if you can achieve the Holy Grail 'carry-on only'
No overly large 'guilt' tips to porters breaking a back to get your luggage to your room
No more airport trolley fees
Faster to pack at home and at your destination
Makes multi-destinations trips less of a hassle
You can go somewhere en-route to your destination
Less chance of losing items
Less chance of injuring your wrist by carrying too much stuff around
More time to window shop at the airport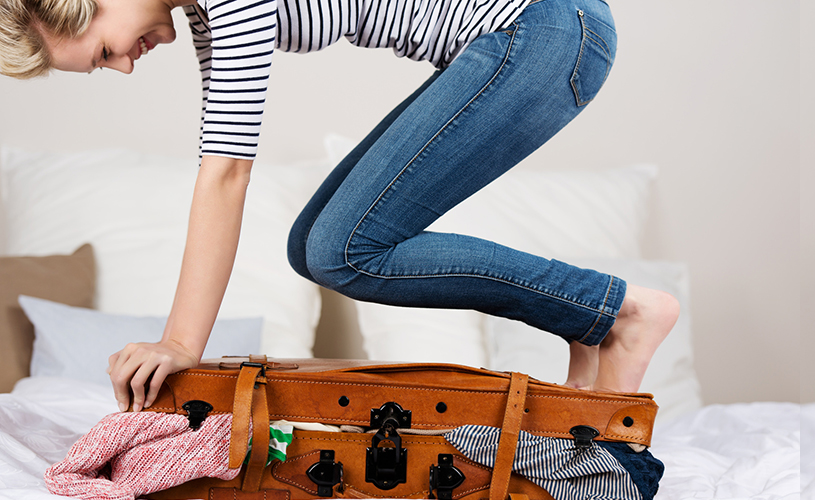 TRY PACKING A SMALLER SUITCASE OR BAG
Don't use your big suitcase. Try with a smaller suitcase instead.
You will fill whatever bag you have so starting smaller may help in the long run.
Packing tip:
Check and compare suitcase weights when you're shopping for new luggage. Amazon is good for this as most products have to include the weight. Make sure you get the product weight not the weight with the shipping packaging.
BUY A LUGGAGE SCALE
Don't guess the weight of your bag  buy a travel scale for accuracy.
How do you know if you've packed light if you don't know the weight of your luggage? Also, weighing your bag at the airport is a little too late if you've packed too much.
TRY A PACKING LIST
Don't pack by going through your things try using a packing list instead.
Ever pulled out your big suitcase, thrown in your 'must take' items then realised you still have space? Be strong. Pack the essentials!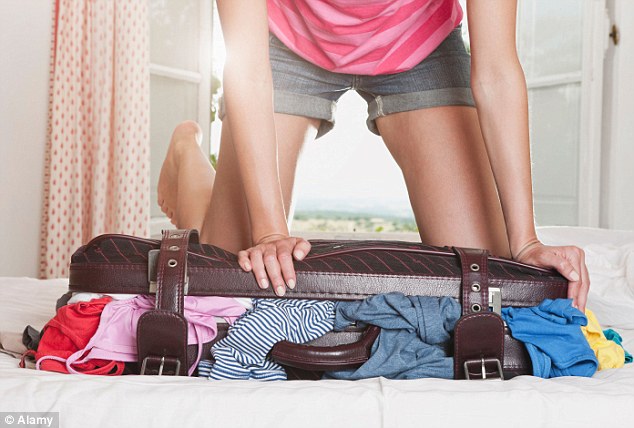 PACK LESS SHOES
Don't pack shoes for every occasion but rather take a maximum of 3 dual-purpose pairs.
Yes, it's nice to have the brown sandals for your white dress and the black heels for those cute shorts and the…list goes on. But you have to curb yourself because shoes take up a lot of bag space.
AVOID HEAVY  CLOTHING
Try not to pack thick and heavy clothes and rather opt for lightweight and technical winter clothing
A few smart swaps can save you a lot of space and weight. Compare the folded size and weight of a thin cotton skirt to thick linen trousers. Or a couple of layers instead of a chunky jumpers. For winter wear, my best tip for packing light is to buy some technical clothing. I like The North Face but cheaper brands like Uniqlo have thin thermal options. Failing that, a pair of leggings or even tights under your clothes can add warmth without adding weight.
Packing tip:
Jeans are not your packing friend. Limit yourself to one pair if possible.
PACK FEWER LAUNDRY ITEMS
Avoid taking laundry items if you can and just try good old soap or find a local laundry service.
I've never struggled to get laundry done cheaply overseas. Usually, you can drop a bag off in the morning and pick it up all clean and folded by the afternoon. Worst case, a bit of soap and your hotel sink can clean most items.
Packing tip:
If you really do want detergent instead of soap, you can usually pick up a single wash pack while you're away or use these detergent 'leaves' (don't touch them with wet hands). I own but have never used a travel washing line.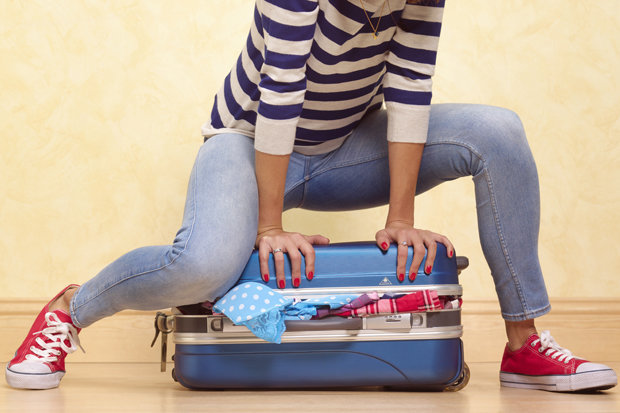 DON'T TAKE ELECTRONIC TOOTHBRUSH OR SHAVER
Don't pack your bulky electric toothbrush and charger and buy a travel electric toothbrush instead.
You can still maintaining good dental hygiene while you're away by swapping your big electric toothbrush for a travel sonic one. It runs on batteries and comes with a sealed cover.
SHARE THINGS
Share your toiletries or buy them when you get there.
Do you and your bestie both need a full bottle of shower gel for a one week trip? Split the shareable items between you and half your packing weight.
Otherwise, buy your bulkier produces when you're there like sun lotion, deodorant, mosquito repellent, shower gel. Even the most remote locations have shops and usually carry many of the brands you are familiar with. Don't pack full-size shampoo and conditioner (even if you have checked baggage)
Most shampoo and conditioners only recommend using a small coin-sized blog.
I have long hair and a 100ml shampoo can last me 2 weeks.
Packing tip: Not convinced? Visit a pharmacy to check the stock on your next trip and it will give you confidence for your trip after that.
FORGET THE HAIR DRYER
All hotels have hair dryers these days so leave it at home.
I accept that some hair requires more heat than others so if that's you, go forth and pack your hair dryer. But is it really necessary? Most hotels have some means of drying your hair. And, if you absolutely must pack a drying device, invest in a travel hairdryer. Likewise with straighteners and curling irons – there are travel sizes available.
Wouldn't it be a nightmare if you lost your bag? It sure would! So be wise and attached a Smart Luggage Tag to your luggage. Get yours right here in our online store.
Editorial thanks to Indiana Jo – with amendments