THE GOOD AND BAD ABOUT ONLINE CHECK-IN
In recent years countless travellers have learned the benefits of online check-in, from choosing seat assignments to saving time at the airport.
WHAT IS ONLINE CHECK-IN?
Offered by just about every major airline, online check-in allows you to check in for your flight in advance from the comfort of your home, office, or hotel room. Most airlines permit online check-in up to 24 hours before departure.
You typically need to provide your name and booking confirmation number, though sometimes you can also check in with a frequent flyer or credit card number. (Note: If you booked your flight through a third-party website such as Expedia or CheapOair rather than directly with the airline, make sure you use the airline's reservation code, not the confirmation number from the booking site, to check-in.)
Each airline's online check-in process is a little different, but you usually get the opportunity to choose a seat, pay any applicable checked bag fees, and consider a variety of up charges (such as an upgrade to premium economy or a fee to get bonus frequent flyer miles).
You may also have to answer some security questions or supply a passport number for an international flight.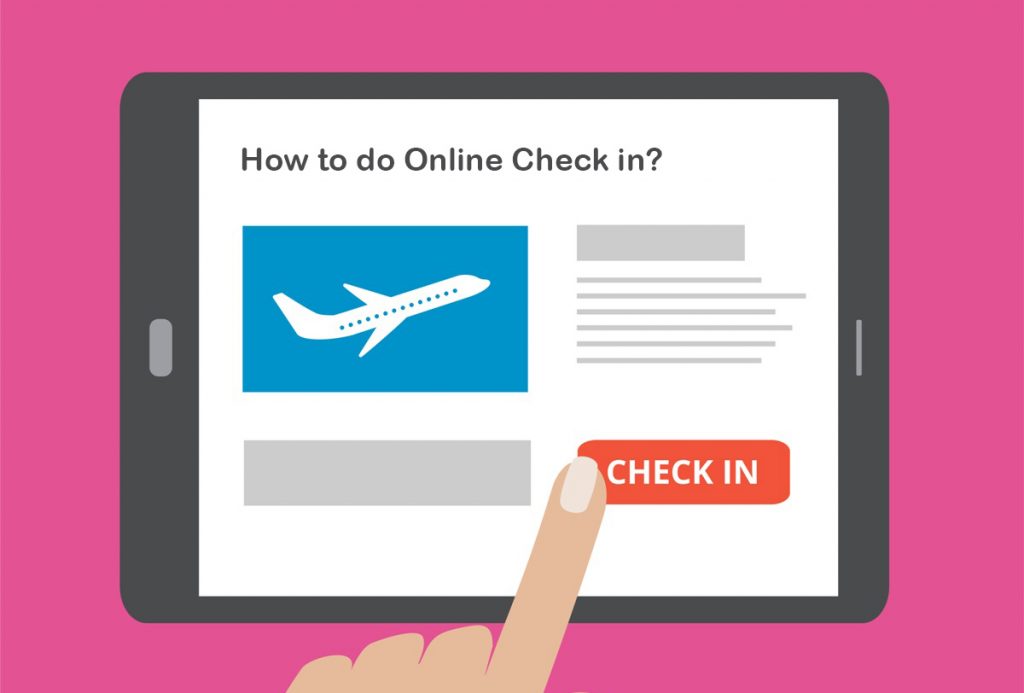 Once you've completed the check-in process, you can print your boarding pass, have it emailed to you (so you can show it at the airport on your mobile device), or access it in a mobile app. If you don't have access to a printer or a smartphone, you can print your boarding pass once you get to the airport as well. This doesn't save you any time at the airport but does allow you to choose your seat further in advance than you would if you waited till a couple of hours before your flight.
WHY CHECK-IN ONLINE?
The airlines love online check-in because they save money on paper costs and personnel. Meanwhile, one of the main benefits of online check-in for travellers is by passing lines and hassle at the airport. If you're not checking luggage, you can skip the check-in counter altogether and go straight to the security checkpoint, then to your gate and onto the plane. Your ID and the boarding pass you printed at home (or sent to your phone) will gain you passage right to your seat.
If you have luggage to check, checking in online can still save you a little time; some airlines have a designated desk where you can drop off your bag without having to go through the whole check-in process. You can also use curb-side check-in.
Perhaps the biggest benefit of online check-in, though, is the chance to get your pick of seating assignments as early as possible. Not only do you have a better shot at getting the seat you want, but you also are more likely to end up in an earlier boarding group (this is especially important on an airline like Southwest, which has open seating).
HOW TO GET A BETTER SEAT WHEN CHECKING-IN?
Here is the best way to get the best seat when using online check-in. First, open two browser windows—one with your airline's website, the other with SeatGuru. On your airline's website, call up your reservation and take a look at the seating chart. In the other window, pull up your flight and corresponding seating chart on SeatGuru. There you'll see certain seats marked as green (advantageous for reasons such as extra legroom), yellow (potentially troublesome), or red (problematic due to proximity to the lavatory, lack of recline, or the like). Use SeatGuru's recommendations to find the best available seat on your flight.
WHY CAN'T I CHECK-IN ONLINE?
Online check-in may be convenient for both travellers and airlines, but it isn't available for every traveller on every itinerary. Following are a few of the reasons you might be forced to check in at the airport instead of online:
TRAVELLING IN LARGE GROUPS
Your first flight is operated not by the airline with which you're trying to check in, but by a codeshare partner.
You need some sort of special service (such as a wheelchair or assistance for a child traveling alone.
You've been selected for secondary screening by the TSA.
The airline doesn't have your passport on file for an international flight.
Note that even if online check-in is available, mobile boarding passes may not be accepted in all airports. If yours isn't one of them, you'll have to print your boarding pass the old-fashioned way.
DON'T MISS YOUR FLIGHT
Checking in online may save you time at the airport, but it doesn't give you license to come skidding up to the security checkpoint 10 minutes before your flight is scheduled to take off. Even if you checked in the night before, you still need to be at your gate and ready to board by the airline's deadline (which could be anywhere from 15 minutes to an hour before the scheduled flight time). The airlines also have deadlines for how far in advance your checked bags must be dropped off. Don't miss them.
To allow time for checking luggage, getting through security, and walking what could be a long distance to your gate, it's best to arrive at the airport at least two hours in advance—even if you've already checked in online. (Allow more time if you're traveling internationally and/or over a busy holiday period.
Editorial thanks to SmarterTravel